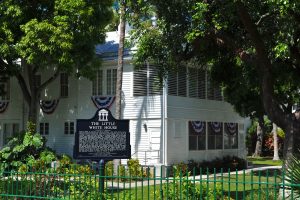 In 1890, what is now the Little White House, Quarters A and B were built for the Navy Commandant and Paymaster.
Quarters A and B was a two-family residence that was used by the Navy until 1911 when the house was turned into a single-family dwelling that would soon be used by President Truman.
This house served many purposes: in 1912 President Taft made a stop to the Little White House on his way to inspect the progress of the Panama Canal. From 1912-1915, Scientist Edward Hayden stayed here while conducting Hurricane research. In 1918 Thomas Edison lived in the house for 6 months while inventing new weapons for the war efforts. In 1948, Joint Chiefs of Staff met here and merged the Departments of War and the Navy creating the Key West Accord. The Little White House was Command Headquarters during the Spanish-American War. During World War II, the Naval Base of the Little White House was used in protecting allied ships in the Florida Straits (several German U-boats sank during combat off of Key West). During the Cold War the Little White House was the headquarters for the East Coast Anti-Submarine Warfare School.
President Truman's first visit to the Little White House was in 1946. He spent a total of 11 working vacations in Key West during his presidency, and returned 5 more times after his presidency.
The Harry S. Truman Little White House is the only Presidential Museum in the State of Florida and is in the process of being fully restored to it's original 1949 furnishings.
For a more detailed history of the House and Truman's time spent here, you can take a tour of the premises Every day from 9 AM – 5 PM.